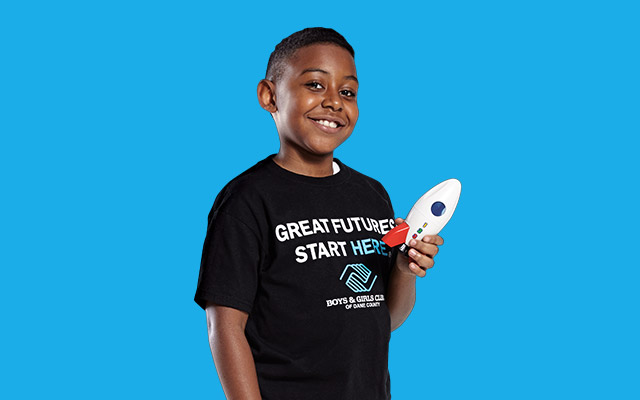 Become a Member
Calling all youth!
Become a Club member for no more than $10 per year
While it costs our Club $1,000 to provide each child with quality programming and healthy meals for one year, we only charge members $0 to $10 per school year to participate in Boys & Girls Club programs (Taft, Allied, Turtle Creek and Phoenix locations only). This way, we ensure that every child can participate, regardless of their financial situation at home.
Note: Membership is for the School Year Only.
Payment Options: If you are interested in making your after-school program payment online, please click here.
SCHOOL AGE MEMBERSHIP APPLICATION (Ages 5*-13)
We are a licensed child care facility and participate in the child care assistance program (Wisconsin Shares). Our provider number and location numbers are listed below:
Provider #: 1000586911 (for all locations)
(Dane County) Allied Location #: 001
(Dane County) Taft Location #: 002
(Walworth County) Turtle Creek Location #: 004
(Walworth County) Phoenix Location #: 008
If you are interested in registering your child as a member, click the link below and follow the instructions:
Dane County Membership Application
Walworth County Membership Application
A parent or guardian must return the completed application.
*Children of five years of age must be enrolled in kindergarten.
Your Guide to Regulated  Child Care
Licensing Rules for Group Child Care Centers
Dane County Child Care Policy Manual
Walworth County Child Care Manual
For more information in Dane County, please call (608) 257-2606 and select the location you are interested in.
Allied: McKenzie Mellecker
Taft: Michelle Young
For more information in Walworth County, please contact Jeff Contreras at (262) 233-6535.
TE
EN PROGRAM MEMBERSHIP APPLICATION (Ages 13-18)
Our Teen Program is for members ages 13-18 and runs from 3:30 (or school dismissal) to 8:30 pm Monday through Friday. We offer evening meals with educational, health and wellness, career development, financial literacy, creative arts, performing arts, media, and sports, fitness, and recreation programs.
If you are interested in registering your teen as a member, click the link below and follow the instructions:
For more information, please contact Zach Otting at (608) 661-4736.