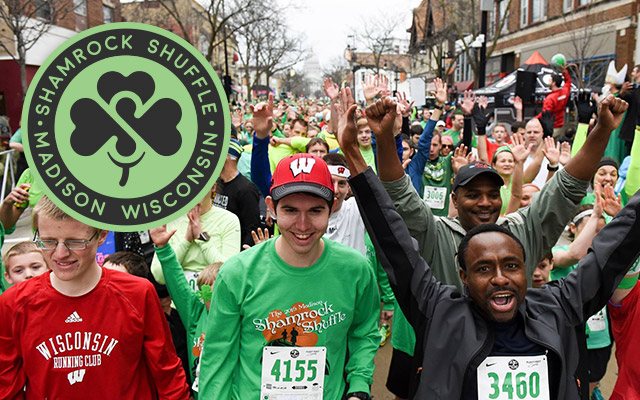 The Madison Shamrock Shuffle 2020
Benefiting Boys & Girls Clubs of Dane County
The Madison Shamrock Shuffle is scheduled to run every year around St. Patrick's Day, celebrating this yearly ritual. Every year, The Madison Shamrock Shuffle raises thousands of dollars that benefits Boys & Girls Clubs of Dane County. To date, you've helped raise over $300,000! Thank you to all past & future participants!
Date & Location
Date: Saturday, March 14th, 2020
Time: 8AM for 10k, 8:15AM for 5K
Location: Corner of Frances St. and State St.
Registration
Registration for 2020 opens on October 1, 2019
5K Run/Walk Cost
October 1 – October 31: $20
November 1 – December 31: $25
January 1, 2020 – March 13: $30
Day Of: $35 (registration closes at 7:30 AM)
10K Run Cost
October 1 – October 31: $25
November 1 – December 31: $30
January 1, 2020 – March 13: $35
Day Of: $40 (registration closes at 7:30 AM)
All participants will receive a commemorative short sleeve event T-shirt*, displayed below, as well as other perks to be announced soon. Aside from event production cost, all additional proceeds go to Boys and Girls Clubs of Dane County!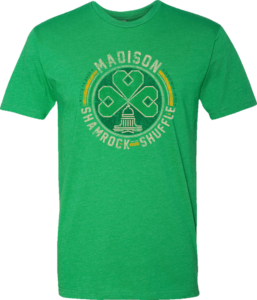 *Note: only those registered before February 27, 2020, are guaranteed a shirt and the correct size. We will attempt to get shirts and proper sizing for those after the deadline however due to production time you may not receive the proper size or a shirt at all if you register after February 27, 2020.
Packet Pickup
To make sure you have the best experience possible, make sure to bring your QR code to packet pickup for faster pickup!
*Note: you may pick up packets for your family and friends
Early Packet Pickup:
Thursday, March 12th from 12 PM – 7 PM at Fleet Feet in Sun Prairie only
Friday, March 13th from 12 PM – 7 PM at Fleet Feet in Madison only
Day of Race Pickup:
Saturday, March 14th from 6:45 AM – 7:45 AM Location TBD
Volunteer Information
Interested in helping out Boys and Girls Club of Dane County? There are many volunteer opportunities available for Shamrock Shuffle Saturday, March 14th.
Click here to sign up to volunteer!
Course
Race Information
The race is capped at 5,000 runners. When we reach that number, we will no longer take any more entries. This is an ALL ages event.
Strollers are allowed. Please line up at the starting line on the sides and towards the back. No dogs or any other animals are allowed on the course for insurance reasons
Awards
There will be awards given for the winner of each male and female age groups. Awards will be mailed to all winners within two weeks after the event.
Age Groups: under 18, 20-24, 25-29, 30-34, 35-39, 40-44, 45-49, 50-54, 55-59, 60-64, 65-69, 70-74, 75+
Parking
Parking will be available at the downtown ramps or on city streets. The city lots are paid lots, so make sure you have a way to pay!
Refund Policy
We have a strict NO REFUND policy. Refunds will not be issued for any reason, including race cancellation due to inclement weather. The race director reserves the right to cancel or alter the race and its course at any point in time to preserve racer safety.
If you would like to switch races, you can do this through your registration link.
If you would like to transfer your registration, please follow these instructions:
Sign In to RunSignUp
Go to your Profile
Click "My Registered Races"
Click "Manage Registration" next to the registration that you would like to transfer to another person
Click the "Transfer to Another Runner" menu item
Fill out all required fields
Select either "Transfer as a Gift" or "Transfer for Refund"
Sponsors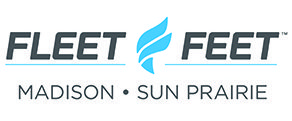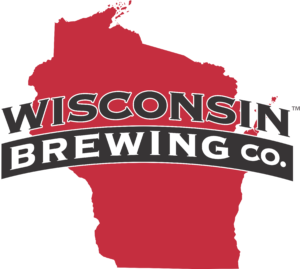 Photos
Race Results