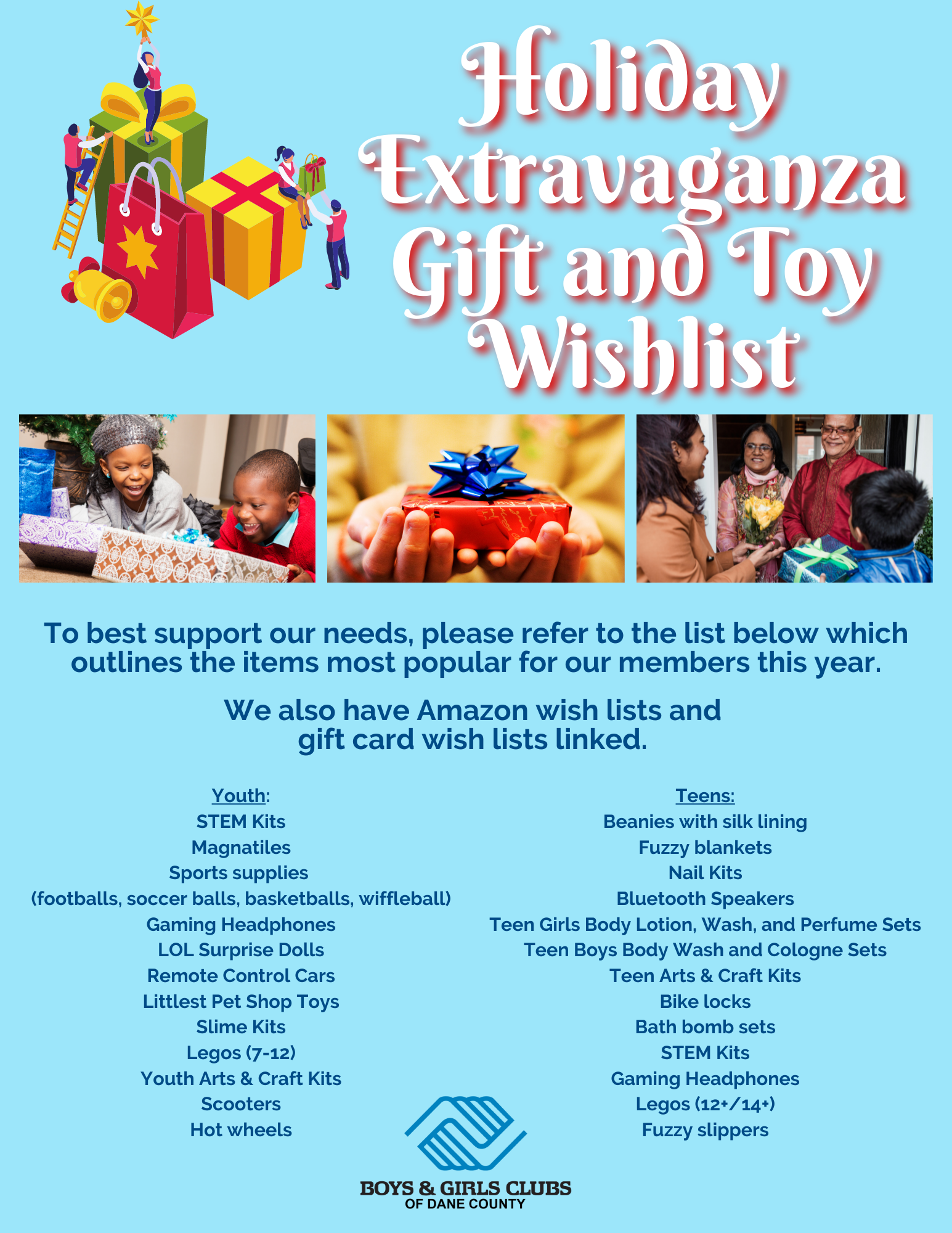 Holiday Extravaganza
You can help make wishes come true for 500 youth and families in our community.
To do this, we need YOUR support! Ways you can help:
*Shop or Adopt – Purchase toys and gifts for 375 kids in our clubs ages 2.5 to 24 years old and/or adopt
a family for $500.
*Target Shopping Spree – Provide 60 shopping sprees for $500 each
*2 Car Surprises – Donate a reliable car in good condition to surprise the recipient and their family.
*Pay it Forward – Surprise 5 restaurant employees connected to our youth by paying their rent for 60
days or we will leave a large tip so they can pay it themselves. Donors can have dinner and surprise the
staff person as they are working.
*Support Tomorrow's Leaders – Gift our 150 1st Generation College Students with $50 Gift Cards.
Help us by making this a special holiday season for hundreds of kids and their families.
See our GIFT CARD wishlist here
Thank you for your interest in supporting youth and families in the community. We will need the support of over 100 community volunteers to support the success of our 2021 Holiday Extravaganza.
Click here to volunteer your time. 
Gift and toy donations can be dropped off at the following Boys and Girls Clubs locations between 9 AM-5 PM Monday-Friday, starting on Monday, November 29th.
Allied Family Center : 4619 Jenewein Rd, Fitchburg, WI 53711
McKenzie Family Center:232 Windsor Street, Sun Prairie, WI 53590
Administrative Offices:1818 West Beltline Hwy, Madison, WI 53713
All donations must be new and delivered unwrapped by Wednesday, December 8th, 2021.
For questions, reach out to: holidaygifts@bgcdc.org