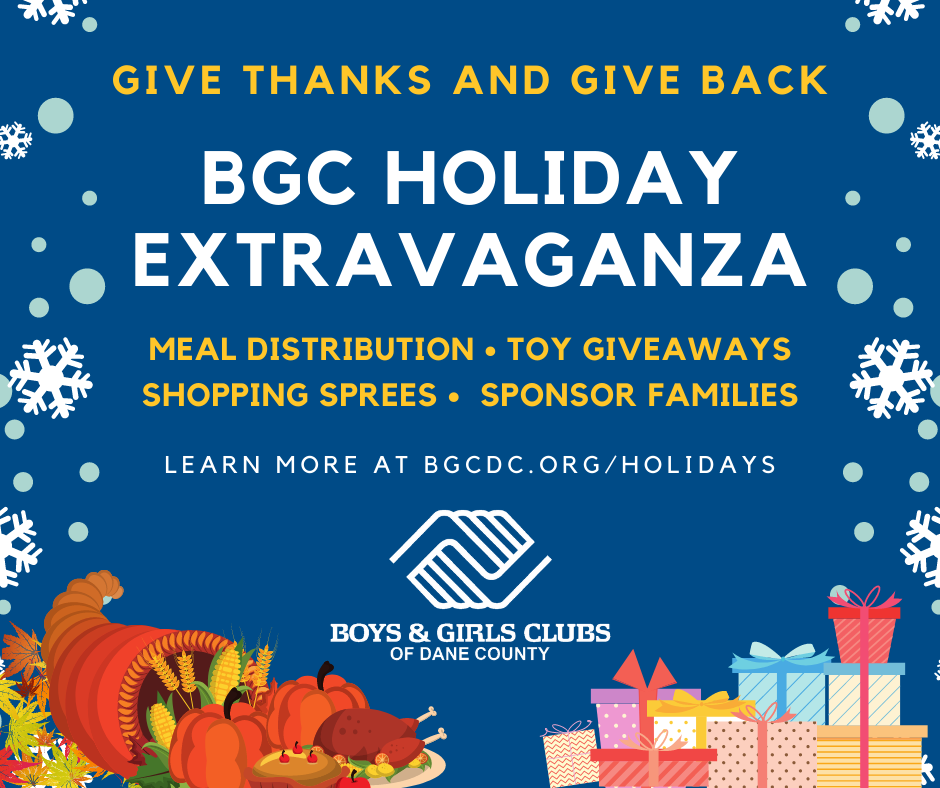 Support Dane County youth this Holiday season by volunteering, providing gifts, or making a donation today!
Holidays Meal Giveaway
This December, we are proud to announce that we will be distributing another FIVE HUNDRED full meals. Food will be distributed at our Allied Family Center in Fitchburg and delivered to our other Club locations as needed.
Register today for your family size meal, filled with a full turkey or ham and ALL the fixings needed for a delicious Holiday meal!
McKenzie Family Club Signup
December 18th • Time 3pm-6pm
232 Windsor St, Sun Prairie
Taft Street Club Signup
December 18th • Time 3pm-6pm
2001 Taft St, Madison
Allied Family Center Signup
December 18th • Time 3pm-6pm
4619 Jenewein Road, Fitchburg
We will need volunteers to support with these efforts! If interested, please follow the link below!
CLICK HERE TO VOLUNTEER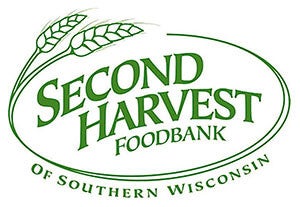 BGC Holiday Shopping Spree
Nominations are open for the Annual BGC Holiday Shopping Spree! Is your family or a family you know experiencing hardships and looking for support this Holiday season? Tell us your/their story for an opportunity to go on an all-expense paid shopping spree paid for by donors of Boys & Girls Clubs.
Instructions:
(1) Share their story by December 9th and why they deserve this opportunity. The judges will only read the nominations from this thread or through the attached link.
(2) No need to share their names (at this given time). We just need the story and why you decided to nominate this family who live in Dane or Walworth county. We need your contact info.
BGC will choose up to 25 families based on the aforementioned criteria and will meet with the final families during the week before Christmas and will take them and their kids on a Christmas shopping spree.
In previous year after making this post other donors would step up after reading the stories and we are hoping to help more families after we verify stories and seek to helping during this season of giving.
If you are a donor click on the link below, make a donation and lets help make 25 families or more going through some hard times very happy this holiday season. We are also reaching out to stores to ask for a 35-40% discounts to maximize the support and to help more families. Items will be limited to food, clothes, medical supplies, toys and furniture. We also did a couple of home make overs as well and will consider other request based on resources provided to the Club.
A Friend During The Holidays
Are you and your co-workers, neighbors, friends, or place of worship looking for ways to spread cheer while simultaneously giving back to your community this holiday season? Look no further! The Boys and Girls Clubs of Dane County is looking for people like you to support our members and their families this Holiday Season.
Here are a few ways you can get involved:
Host A Giving Tree! We will provide you with tags containing the wish list items of club kids and their families. Simply purchase the items and return to our gift wrapping event in December.
Sponsor a Family… or Families! Spread JOY this holiday season as you bring the spirit of the season into the hearts and homes of  club families. Help provide home essentials, presents, and a holiday meal to families in need.
Host a Toy Drive! Whether you are looking to host a gift, coat, or toy drive–the Boys and Girls Clubs  of Dane County are needing your assistance. Contact us for more details about item donation and drop-off locations.
These are just a few examples of how you can help. We are always looking for teen-focused gifts and other fun ideas to support our members and their families.
Please contact our Director of Special Events to get involved.
Volunteer Opportunities:
With so many pathways for supporting our community this Holiday Season, we need a little help to make it happen.
If you or someone you know are looking for ways to support their community, check out all of our great opportunities!