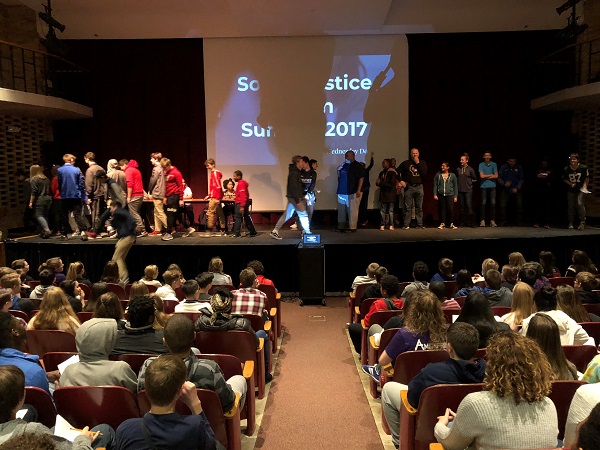 Sun Prairie Middle & High School Students Raise Money for BGCDC
Today, Cardinal Heights Upper Middle School in Sun Prairie hosted its 3rd annual Social Justice Youth Summit which covered a wide array of topics/workshops for students to participate in. The Social Justice Youth Summit was organized more than three years ago in the wake of the death of Tony Robinson. Students in Sun Prairie were inspired by the Youth and Unity Summit at Memorial High School that Boys & Girls Club of Dane County organized with Tony Robinson's family more than three years ago where more than 3,000 participants attended. Sun Prairie students came together because they wanted to begin talking about racial and social justice issues in their community as well in response to this tragedy. The goal of the organizers is to create a sense of community and bring everyone together by providing a safe space to discuss these issues.
The organizers asked Michael Johnson, CEO of Boys & Girls Club of Dane County, to be the keynote speaker at this event. The participants, teenagers in Sun Prairie, raised $6,000 to donate to Boys & Girls Club of Dane County with the intention of assisting Sun Prairie residents and other individuals in need. The check presentation took place at the Summit.
"I am truly proud of these students, teachers, and advisors at Sun Prairie Middle and High School. Their commitment to continuing the conversations and actions around racial and social justice issues is amazing and I am honored to work with these students and be the keynote speaker at the (Social Justice Youth) Summit. We are grateful for this gift and we look forward to helping families in Sun Prairie," said Michael Johnson, CEO, Boys & Girls Club of Dane County.
We will use the $6,000 donated to help support families in need in Sun Prairie during the holidays as well as supporting programming to Sun Prairie youth. The Club will use $3,000 to cover transportation costs to transport youth from Sun Prairie to either their Allied or Taft Club locations for after school and other club-based programming. The other $3,000 will be used to assist Sun Prairie families and other families in need during the holidays with either basic needs, gifts for family members, and/or assistance with housing costs. Two families receive a holiday shopping spree, and these families and their stories were announced at the Social Justice Youth Summit.
For details about the Social Justice Youth Summit and descriptions of the workshops, please visit the following link: https://docs.google.com/document/d/1cinx-GxwJrZDORzbanJj2Uxparnu5nagd3GQgo1U1BA/edit