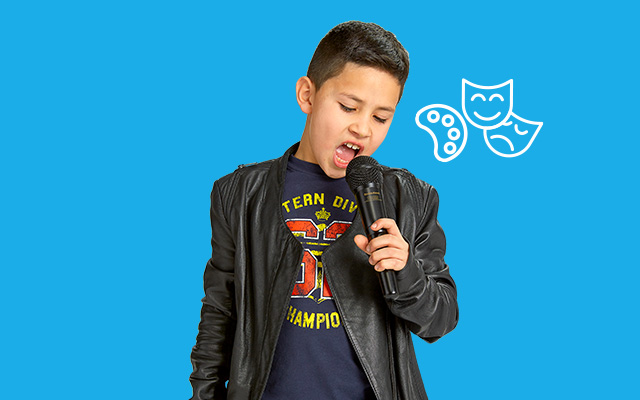 Arts Programs
Discovering  talents in creative, performing, and fine arts.
Every kid is full of creative potential. Sometimes, they just need a little help discovering what they're capable of. Our Arts Programs give Dane County youth the opportunity to pursue personal interests, improve their confidence, and develop valuable creative skills.
Music Makers
The Music Makers program teaches members how to read, write, produce, and perform their own music. Local musicians volunteer to teach private music lessons in piano, guitar, bass guitar, and drum kit. Select Music Maker members have the opportunity to perform in and around the Madison community each year. In 2010, the Jenewein Music Makers from the Allied Family Center recorded and released some of their original songs on the "Boys & Girls Club Mix-tape CD," which was released at Brat Fest. The Music Maker program is taught at both the Allied and Taft locations.
Dance Program
The Dance Program offers boys and girls the opportunity to explore the world of dance through ballet, jazz, tap, and/or hip-hop. Dance classes are taught in the Club's Dance Studio located at the Taft Street Boys & Girls Club location. Students can also choose to become a member of a dance group. Performance opportunities around Madison sometimes arise, as was the case in 2011 when our students performed alongside other dancers in Black Star Drum Line performances throughout the summer.
Lyricism 101 & Media Arts Program
Lyricism 101 & Media Arts Program is a dynamic, energetic program that helps students bloom into confident young writers, performers, and media enthusiasts! With an emphasis on the poetic art form of the spoken word, this program prepares students to take their work from the page to the stage through writing and performance exercises. Students explore the techniques of breath control, movement, acting, stage directing, and working with a microphone. The program culminates in a powerful performance meant to showcase the students' artistic growth and achievement.
In our Music Production & Media Arts Program, students learn how to use cutting-edge music production and editing software, photo-editing software like Adobe Photoshop, and video production/editing software like Final Cut and Windows Movie Maker.