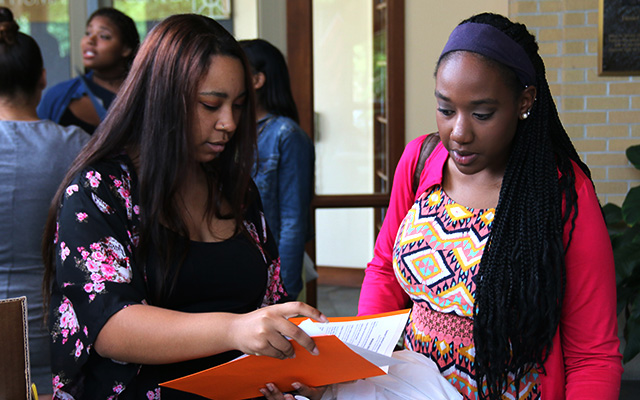 Career Programs
Channeling curiosity and passion into promising careers.
Our Career Development Programs are focused on instilling critical social and professional skills in our youth members in fun, engaging environments. Students of all ages will develop positive work habits and valuable experience to help them succeed in the workplace.
CareerLaunch
CareerLaunch is a computer based program designed to support youth in preparing for their first job, internships, summer employment, and so much more! This program provides a broad range of tools and activities to explore a broad range of career areas, match their interest to career clusters, and identify the skills and education needed for their particular career path. Through fun and interactive activities, members, ages 12 to 18, are instructed on goal setting, career decision making, resume building, interview preparation, and college search and application processes. Students develop a personal plan, develop good work habits, and are involved in job readiness activities.
CUNA Mutual Job Ready! Program
The Job Ready! Program is a research-based program created by Boys & Girls Club of America and CUNA Mutual that promotes career exploration and money management skills while offering on-the-job experience and mentoring. Through Job Ready!, members receive the educational and practical experience they need to embrace higher education and their future careers with the utmost enthusiasm.
Junior Staff
Junior Staff is a program for Club teens ages 13 to 18 that guides young people in preparing for a career in Boys & Girls Clubs and/or other service professions. Members will shadow Lead Staff to gain a knowledge of the day-to-day activities of the Club. Through participation in Junior Staff, teens will develop interpersonal skills, a strong work ethic, and a sense of community engagement while experiencing on-the-job Club work.
STEM
Boys & Girls Club of Dane County is committed to closing the opportunity gap in science, technology, engineering, and mathematics (STEM) with innovative and creative programs, activity ideas, and resources for our Clubs and the youth they serve. After-school and summer learning environments provide unique opportunities to advance STEM knowledge and increase interest in STEM-related careers.
Using a cross-disciplinary approach that channels young people's natural curiosity into the design process inherent in the arts, our STEM programs empower youth to create new solutions to real-world challenges. This project-based approach develops critical thinking, problem solving, and other 21st century skills critical to success in the STEM workforce and beyond.
App Lab: A curriculum in intermediate-level coding that uses MIT's App Inventor platform to engage teens in building mobile apps; available through the My.Future platform
DIY STEM: Fun, hands-on activities using easy-to-procure materials allow Club members to explore the "science of every day"
Building Blocks: Introductory engineering activities challenge youth to improve their communities while learning about design processes and exploring STEM-related careers