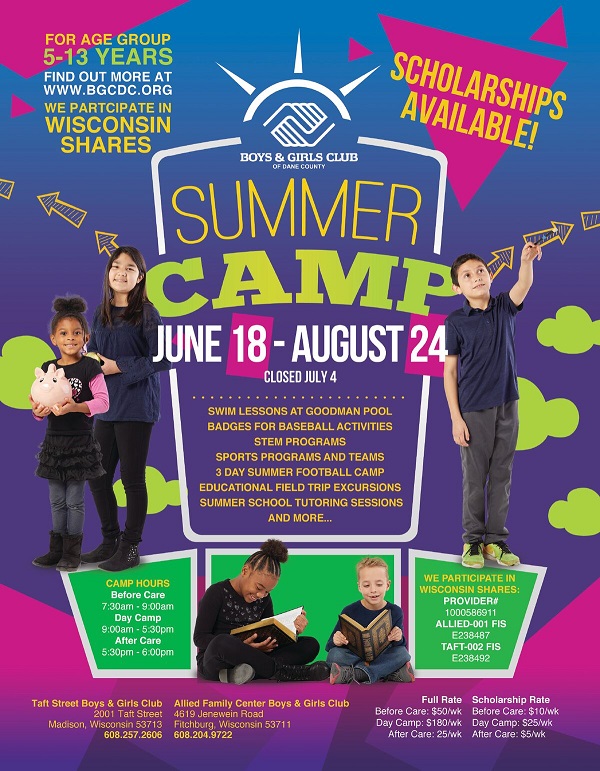 Summer Camp Program
Boys & Girls Club of Dane County offers a 10 week summer camp program from June 18, 2018- August 24, 2018! Members are invited to participate in Character & Leadership, Literacy, health and wellness, sports fitness and recreation, stem activities, field trips, swim lessons, registered sports programs, such as baseball, basketball, football and more.
Interested in signing up for Walworth County Summer Camp? Click HERE!
To register for summer camp follow the instructions below:
Note: ALL families must complete the membership application regardless of prior membership.
Click here to fill out the membership application and follow the instructions.
Click here to fill out the summer camp registration form and follow the instructions
Click the link below to process an electronic payment or stop at the BGC location of your choice. Payment, and all supporting documents must be submitted with your application.
Please note: the application may take up to 48 hours to process. Once completed. you will be notified via email and phone number on next steps.
Summer Camp Hours of Operation
Before Care: 7:30-9:00 am
Day Camp: 9:00-5:30 pm
After Care: 5:30-6:00 pm
Payment Options: If you are interested in making your summer camp payment online, please click here.
Shares Rate: Before Care $50/wk, Day Camp $180/wk, After Care $25/wk
Full Pay Rate: Before Care $50/wk, Day Camp $180/wk, After Care $25/wk
Scholarship Rate: Before Care $10/wk, Day Camp $25/wk, After Care $5/wk
Please inquire about your shares and scholarship eligibility at mmurphy@bgcdc.org or twalls@bgcdc.org.
The provider number for both locations is: 100586911
Allied is location 001
Taft is location 002
FIS Number for Allied is E238487
FIS Number for Taft is E2238492
For assistance or more information, please email Senior Director of Programs, Tommy Walls at twalls@bgcdc.org or 608-257-2606
Your Guide to Regulated  Child Care: https://dcf.wisconsin.gov/files/publications/pdf/2436.pdf
Licensing Rules for Group Child Care Centers: https://dcf.wisconsin.gov/files/publications/pdf/4024.pdf
CACFP Meal Pattern Guidelines: https://fns-prod.azureedge.net/sites/default/files/cacfp/CACFP_MealBP.pdf
Child Care Policy Manual: Coming Soon!