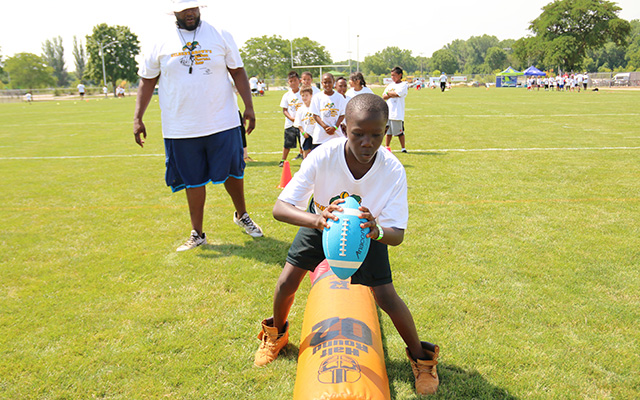 Summer Camp Program
We are excited to announce that we will be offering Summer Break Camp in August!
What is Summer Break Camp?  It is school-age programming for youth ages 5-13 in a licensed, 3-Star child care facility.  Campers will enjoy the opportunity to engage in the 5 Core Program Areas that closely align with the developmental needs of all young people in the areas of Character and Leadership Development, Education and Career Development, Health and Life Skills, The Arts, and Sports, Fitness and Recreation. Plan to be outside and have fun in the sun!
The hours of operation are 12:30 pm-6:00 pm on Wednesdays and Fridays August 12-August 28, 2020. WI Shares Child Care Subsidies are accepted and Boys & Girls Clubs of Dane County Scholarships are available.
How do I sign up for youth to attend?  It's easy!
Register and reserve a space for the youth in the Boys Group, Girls Group, or Younger Group.  Space is limited in each group.
Complete the Membership Application Form and submit any paperwork (i.e. Immunization Record, Authorization to Administer Medication, etc)
Make a payment or authorize the Boys & Girls Clubs Taft Street location as your child care provider.
Be approved to attend.
Have fun and attend the program!
If you are interested in registering and enrolling, please feel free to click the button below.
As a note to our families, parents, and guardians are required to drop off their child every day there will be 10 minutes staggered drop off and pick up times as to not overwhelm our entrance and exiting strategies. Parents and guardians will be required to choose at 10 minutes drop off and pick up period upon enrollment; the drop off period is between 12:30 pm – 1:30 pm.
Lunch will be served from 12:30 pm – 1 pm, if your child brings their own lunch, it must be eaten prior to entering the facility. It is highly discouraged that families send meals during this time, but if it is absolutely necessary, meals provided by families must follow the Child and Adult Care Food Program (CACFP) guidelines.
All personal items must stay at home with the exception of a towel, swimsuit, and a change of clothes. All personal items will be stored behind the MSA desk at check-in.
Here is a short video on how our new check-in procedure will work: Boys and Girls Dane County- Reopening video
Contact person: Michelle Young, myoung@bgcdc.org
Your Guide to Regulated Child Care (As this required by Licensing upon enrollment.)