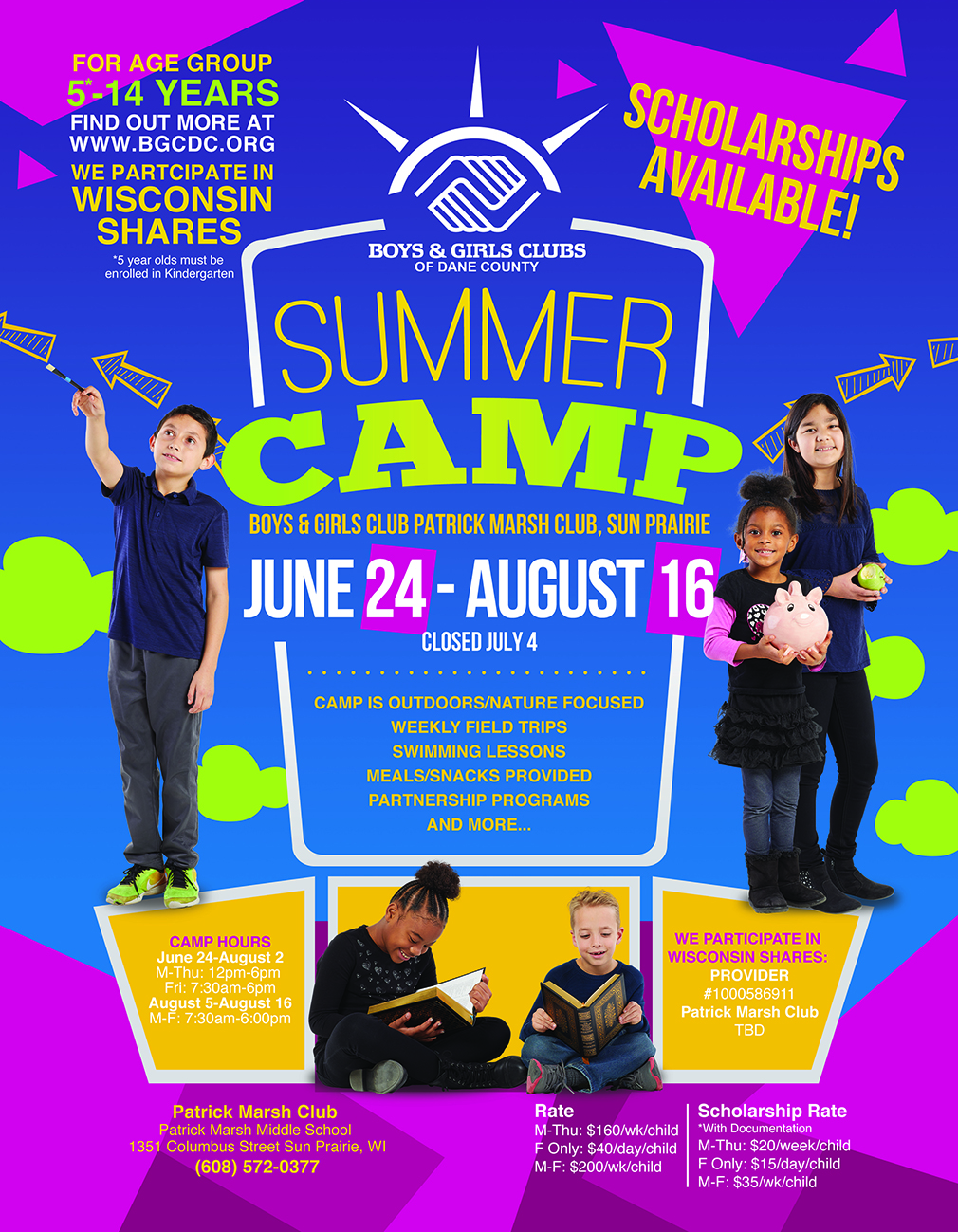 Day Camp Program
Boys & Girls Club of Dane County offers a 8 week day camp program for ages 5*- 14. Members are invited to participate in character & leadership, literacy, health and wellness, sports fitness and recreation, STEM activities, field trips, swim lessons, sports programs, such as baseball, basketball, football and more. (5 year olds must be enrolled in full-day Kindergarten)
The Boys & Girls Club offers a 8-week program at the following locations for ages 5*-14 from June 24-August 16 (closed on July 4)
Patrick Marsh Location: 1351 Columbus Street, Sun Prairie, WI
Patrick Marsh Day Camp Hours of Operation:
June 24-August 2: Monday-Thursday 12:00pm-6:00pm
June 24-August 2: Friday 7:30am-6:00pm
August 5-August 16: Monday-Friday 7:30am-6:00pm
Check out the day camp FAQs and weekly themes here
Registration: Open enrollment 
To register for summer camp follow the instructions below:
Day Camp Membership and Registration: click here
Turn completed application in at Patrick Marsh Middle School or the Boys & Girls Clubs of Dane county Admin Office located at 1818 W. Beltline Hwy, Madison WI
Please note: the application may take up to 72 hours to process. Once completed. you will be notified via email and phone number on next steps.
Payment Options: Payments are due in advance of the care provided. Accepted form of payments are: cash, cashier's checks and online,
To pay online please click here
Rate:  Monday-Thursday $160/wk, Friday ONLY $40/day, Monday -Friday (when applicable) $200/week
Scholarship Rate: Monday-Thursday $20/wk, Friday ONLY $15/day, Monday-Friday (when applicable) $35/wk
Week 1 Upon Enrollment
Week 2 June 24
Week 3 July 1
Week 4 July 8
Week 5 July 15
Week 6 July 22
Week 7 July 29
Week 8 August 5
For Shares: The provider number for both locations is: 100586911
Patrick Marsh: TBD (accepting WI Shares July 1, 2019)
Questions: For assistance or more information, please call 608-572-0377
Anthony Burks : aburks@bgcdc.org
Child Care Materials:
Your guidance to regulated child care
CACFP Meal Pattern Guidelines
DCF 252