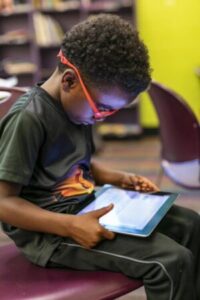 BGCDC Virtual Club
Focusing on our 5 Core Program Areas that closely align with the developmental needs of all young people: The Arts, Education & Careers, Health & Wellness, Character & Leadership, Sports & Recreation.

Focusing on the digital future.
The BGCDC Virtual Club will have a variety of activities every day, just like we have in the Clubs.
Our 5 Core Program Areas
| | | |
| --- | --- | --- |
| The Arts | Education | Health & Wellness |
| These programs are designed to foster creativity in young people, and give them outlets for self-expression. From photography to hip-hop, our arts programs have something that will inspire everyone. | These programs are designed to ensure that all Club members graduate from high school on time, ready for a post-secondary education and a 21st-century career. | These programs develop young people's capacity to engage in positive behaviors to nurture their well-being, set personal goals and grow into self-sufficient adults. |
| | |
| --- | --- |
| Leadership & Service | Sports & Recreation |
| These programs help youth become responsible, caring citizens and acquire skills to participate the democratic process. Program participants also develop leadership skills and gain opportunities for planning, decision-making, contributing to Club and community and celebrating our national heritage. | These Club programs help develop physical fitness, reduce stress and promote a positive use of leisure time, appreciation for the environment and interpersonal skills. |
Virtual Club Schedule
4/20/20 – 4/24/20 – Week 1
4/27/20 – 5/1/20 – Week 2
5/4/20 – 5/8/20 – Week 3
5/11/20 – 5/15/20 – Week 4
5/18/20 – 5/22/20 – Week 5
5/25/20 – 5/29/20 – Week 6
6/1/20 – 6/5/20 – Week 7
6/8/20 – 6/12/20 – Week 8
6/15/20 – 6/19/20 – Week 9
6/22/20 – 6/26/20 – Week 10
6/29/20 – 7/3/20 – Week 11
7/6/20 – 7/10/20 – Week 12
7/13/20 – 7/17/20 – Week 13
7/20/20 – 7/24/20 – Week 14
7/27/20 – 7/31/20 – Week 15
8/3/20 – 8/7/20 – Week 16
8/10/20 – 8/14/20 – Week 17
8/17/20 – 8/21/20 – Week 18
8/24/20 – 8/28/20 – Week 19
8/31/20 – 9/4/20 – Week 20
9/7/20 – 9/11/20 – Week 21
9/14/20 – 9/18/20 – Week 22
9/21/20 – 9/25/20 – Week 23
9/28/20 – 10/2/20 – Week 24
10/5/20 – 10/9/20 – Week 25
10/12/20 – 10/16/20 – Week 26
10/19/20 – 10/23/20 – Week 27
10/26/20 – 10/30/20 – Week 28
11/2/20 – 11/6/20 – Week 29
11/9/20 – 11/13/20 – Week 30
11/16/20 – 11/20/20 – Week 31
11/23/20 – 11/27/20 – Week 32
11/30/20 – 12-4-20 – Week 33
12/7/20 – 12/11-20 – Week 34
12/14/20 – 12/18/20 – Week 35
12/21/20 – 12/25/20 – Week 36
1/4/21 – 1/8/21 – Week 37
1/11/21 – 1/15/21 – Week 38
1/18/21 – 1/22/21 – Week 39
1/25/21 – 1/29/21 – Week 40
2/1/21 – 2/5/21 – Week 41
2/8/21 – 2/12/21 – Week 42
2/15/21 – 2/19/21 – Week 43
2/22/21 – 2/26/21 – Week 44
3/1/21 – 3/5/21 – Week 45
3/8/21 – 3/12/21 – Week 46
3/15/21 – 3/19/21 – Week 47
3/22/21 – 3/26/21 – Week 48
3/29/21 – 4/2/21 – Week 49
4/5/21 – 4/9/21 – Week 50
4/12/21 – 4/16/21 – Week 51
4/19/21 – 4/23/21 – Week 52
4/26/21 – 4/30/21 – Week 53
5/3/21 – 5/7/21 – Week 54
5/10/21 – 5/14/21 – Week 55
5/17/21 – 5/21/21 – Week 56
5/24/21 – 5/28/21 – Week 57
5/31/21 – 6/4/21 – Week 58