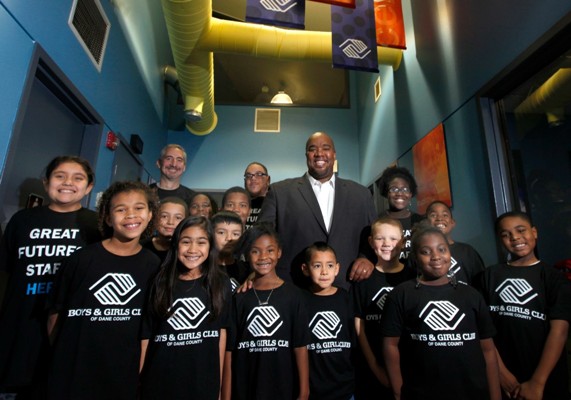 Executive Staff
Meet the people behind the impact

Michael Johnson, MBA – President & CEO
Since taking on the top leadership role at Boys & Girls Clubs of Dane County (BGC) in 2010, Michael has led the agency on an amazing journey of change – transforming the organization from a local children's charity to a change agent for children and families while driving high standards of excellence in financial transparency, community engagement and governance; all with the goal of making an significant, measurable impact in the lives of children and their families. Michael has made it a priority to ensure BGC continues to be a leader in youth development while enhancing partnerships to produce positive outcomes for young people and their families. In eight years as CEO, the Club has made some significant accomplishments.
Developed a bold, five-year $15M plan that has resulted in more than doubling the number of children and families being served in South Central Wisconsin, tripling the number of employees, growing the operating budget by 318 percent while balancing the Club's budget every single year.
Through its partnership with MMSD, BGC's signature college prep program has produced graduation rates of over 90 percent for eight consecutive years, with more than 85 percent of their students (460 students) enrolled in local colleges and universities across the nation. This program is the largest public/private partnership in the Madison and Verona Area School districts.
Implemented the most cost-efficient college preparatory program in the nation based on a study conducted by the University of Vermont. Because of his leadership, Michael and his Board was featured in a nationally televised Culver's Frozen Custard commercial, which aired in 37 states.
Secured paid internship for more than 500 young people securing wages of $10-$20 an hour, helping to ensure that young people are being exposed to both college and career pathways and secured more than $1.5 million in cause marketing agreements (combined) for Boys & Girls Clubs of America in partnership with Oscar Mayer, Fiskars and Van Holten Pickles to benefit Boys & Girls Club locations nationwide.
Below are some awards Michael has received over the years.
NBC Award for Making a Difference (2017)
Madison 365's "Most Influential African-Americans in Wisconsin" (2015)
In Business Magazine's "Most Influential Person" (cover story, 2014)
State of Wisconsin's "Friends of Education" Award from State Superintendent (2014)
Wisconsin State Journal's "Five People to Watch" (2013)
Boys & Girls Clubs of America's "Midwest Executive of the Year" (2012)
Pennsylvania House of Representatives and Senate Honoree (2012)
Madison Magazine's "Person of the Year" (2011, cover story)
Omega Psi Phi Wisconsin Chapter's "Citizen of the Year" (2011)
Proclamation by the Mayor of St. Louis to create "Michael Johnson Day"(2006)
In addition, Michael earned a BA in Business Education from Chicago State University and an MBA from the University of Phoenix. He also holds a certification in fundraising management from the Center of Philanthropy at Indiana University, and a certification in human resource management from Cornell University and holds an Advanced Leadership Certification from University of Michigan- Ross School of Business. Michael is married to Toya and they are blessed with three children ages 14, 7 and 4. Prior to moving to Madison, Johnson spent 15 years in executive-level positions in Chicago, Philadelphia and St. Louis, leading large, complex government and nonprofit agencies.
Rod Mitchell, M.A. – Executive Vice President & Chief Operating Officer
Rod Mitchell comes to the club with 15 years of youth development, operations and educational leadership experience. Rod is also an accomplished finance manager, human resource professional and organizational leader. Rod has made it his mission to work "for" youth and provide access to "doorway" services that helps the under-served become viable citizens. Rod has a bachelor's degree in education and sport's management, a master's degree in higher education administration and multiple certifications through professional organizations. In his spare time, Rod enjoys, going to the gym, riding his bike, and watching sports at every opportunity.
Janine Stephens, MBA – Vice President of Marketing & Special Events/Chief Development Officer
Janine Stephens, Vice President of Marketing & Special Events/Chief Development Officer, joined the Boys & Girls Club of Dane County Executive Team in February 2018. However, Janine is not new to Boys & Girls Club having served as AVP of Marketing & Special Events for 7 years prior to leaving in 2016 to become the Chief Operating Officer at a local non-profit for three years before returning to Boys & Girls Club. Janine brings a wealth of experience with more than 10 years working in special events and fund development, leading and growing organizations in the Madison Community, such as Building Brave, and today Boys & Girls Club of Dane County. Janine has also served on many community committees to further the mission of many agencies to enhance educational opportunities and leadership development for young people.
 Alex Gagnon – Vice President of Education
Alex Gagnon, Vice President of Education, has the privilege of working with an outstanding group of individuals who are dedicated to supporting our students' growth and success. Please visit our
Contact Us
page to review our school-based team who makes the dream happen!
Alex has nearly a decade of youth development experience with an emphasis on supporting college access and success programming for students who are the first in their families to attend college. Before joining Boys & Girls Club of Dane County, Alex was a program officer for a local philanthropic organization focused on promoting post-secondary achievement and equity, and previously worked for more than five years with the Chicago Scholars Foundation in Chicago, IL, as the Director of College to Careers creating leadership pipelines for students from under-resourced communities. He holds a Master's Degree in Educational Policy Studies from the University of Illinois at Chicago and a Bachelor's Degree from the University of Wisconsin – Madison.