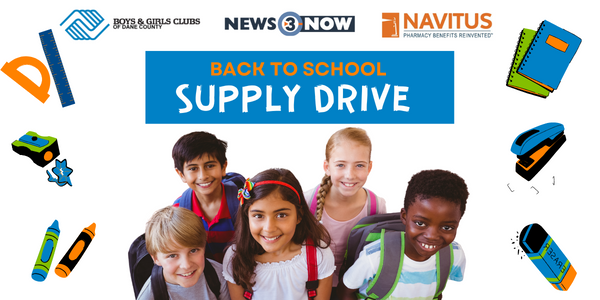 It's time again for our annual Back-To-School Drive! We are are in need of new school supplies for our preschool, elementary, high school, and college students so they can enter the 2022-2023 school year ready to succeed!
We are accepting new school supplies found on this list (click here). You can drop off your donation between Monday, August 1 and Tuesday, August 9 at the following locations. Thank you!
If you would like to donate to help purchase school supplies, you can do so here, please put "Back To School" in the comment section.
Drop-Off Locations
Allied Family Center Boys & Girls Club:
4619 Jenewein Road, Fitchburg, WI
Taft Street Boys & Girls Club:
2001 Taft St., Madison, WI
McKenzie Family Boys & Girls Club:
232 Windsor St., Sun Prairie, WI
Boys & Girls Clubs of Dane County Admin:
1818 West Beltline Hwy, Madison, WI
Pure Integrity Homes:
126 Braun Road Oregon WI 53575, drop off anytime
Cardinal Heating:
3361 Brooks Drive Sun Prairie WI 53590, 8 AM – 5 PM M-F
Incredible Bank:
5329 Murphy Drive Middleton, WI 53562, 8 AM – 5 PM M-F
Fitchburg Family Pharmacy:
3350 Cahill Main #6 Fitchburg, WI, 9 AM – 6PM M-F & 9 AM – 1 PM Sat
BMO Harris Bank:
4726 E Town Blvd, 9-5 M-F, 9-12 Sat
BMO Harris Bank:
7447 University Ave, 9 -5 M-F, 9-12 Sat
Walgreens: 26 stores across Dane County See full list here
You also can purchase supplies directly from our Amazon wishlist (click here) and they will be delivered to us. No drop-off is required on your part. Thank you!
If your business is looking to get involved, you can organize an internal supply drive and drop off everything at once at one of the locations no later than Tuesday, August 9th.
Back-To-School Pickup & Family Night
More information to come. Join us Thursday, August 18 from 5:00 pm – 7:00 pm for an evening of family fun! School supplies will be available to pick up at no charge for youth ages 2-19 currently in school. There will also be fun activities and a chance to win prizes! Registration is required. Distribution registration can be found here and opens August 8th.
We need your help!
Our Back-To-School drive will serve hundreds of youth, and need your support to make this happen! Shifts are available for School Supply Packing (August 10-16) and Distribution on Thursday, August 18 at all 3 of our Club locations! Please sign up for any shifts that you may be available for — we appreciate your help!! You can sign up here.
If you have any questions, please contact ekuhn@bgcdc.org.