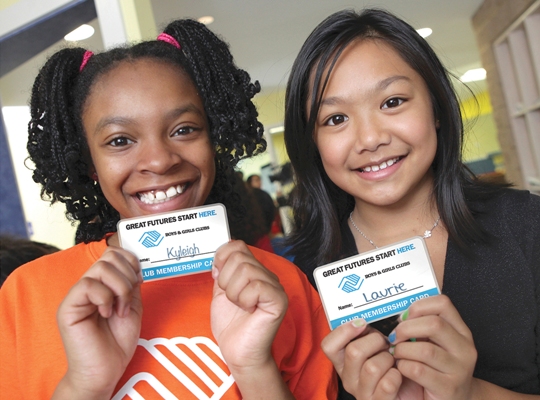 News
Always something happening at Boys & Girls Club of Dane County
Madison, WI – Today at 4:15 PM at the Boys & Girls Clubs of Dane County's Taft Club, Club members will be bidding farewell and best wishes to Tyler Ubinger, an employee of Palmer Johnson Power Systems, who will be racing 3,600 miles from Portland, Oregon to Washington D.C. on road, gravel, and rail trail […]
---
Madison, WI – The Boys & Girls Clubs of Dane County, in partnership with Madison Metropolitan School District, is thrilled to announce that 100% of current AVID/TOPS senior class students will graduate from high school this semester and attend college in the fall. These students have secured more than $1.6M in scholarships to support their […]
---
Madison, WI – After receiving 179 applications for the EVP/Chief Operating Officer position at Boys & Girls Clubs of Dane County, Dr. Sarah Ghee, an executive with the United Way of Greater Cincinnati, has been chosen to lead the operations of the $6M organization and will oversee human resources, finance, legal, facility management, and programs […]
---
Attention Boys & Girls Club Families: The Boys & Girls Clubs of Dane County clubs are closed for all Youth and Teen programming on Tuesday, February 12,2019  due to the weather. There is no after-school, teen programming or building activities today. Per our Childcare Policy Manual, the Boys & Girls Clubs will be closed when the […]
---
The Boys & Girls Clubs of Dane County will be closed Wednesday, January 30 and Thursday January 31 due to extremely severe weather conditions. This includes the admin offices, youth & teen programs and scheduled building activities. Services are scheduled to resume on Friday, February 1, 2019. Please stay warm!
---
Attention Boys & Girls Club Families: The Boys & Girls Clubs of Dane County clubs are closed for all Youth and Teen programming on Wednesday, January 23rd, 2019 due to the weather. There is no after-school, teen programming or building activities today. Per our Childcare Policy Manual, the Boys & Girls Clubs will be closed when […]
---
Attention Boys & Girls Club Families:  The Boys & Girls Clubs of Dane County Clubs are closing at 6:00 pm for Youth and Teen programming due to the weather.    Families should plan to pick up their child(ren) no later than 6:00 pm.    BGCDC transportation for van riders will begin between 4:00-4:30pm.  We will provide an evening meal […]
---
Michael Johnson Returns to Boys & Girls Club of Dane County as CEO Under Johnson's past leadership, graduation rates and programming success soared  MADISON, Wis.—November 1, 2018—The Boys & Girls Club of Dane County is pleased to announce that Michael Johnson will return to the organization as CEO. He will rejoin the Club on Dec. […]
---
Amber Alert issued for 13-year-old Wisconsin girl Jayme Closs (13 years) Last seen Oct 15, 2018 in Barron, WI On Monday, October 15, 2018 at 12:53AM, a 911 call was received from Barron, WI. Upon arrival law enforcement found 2 adults deceased, and their 13 year old daughter, Jayme Closs, missing, and is considered endangered. […]
---
The Boys & Girls Club of Dane County is welcoming the community to join us for our November 20, 2018 Board of Directors Meeting. The meeting will take place at 7:30 am at WIPFLI located at 2501 West Beltline Highway, Suite 401, Madison WI 53713. For more information please contact Jenni Hughes at jhughes@bgcdc.org. […]
---
We share the deep concern of those in our community over recent ICE activity in our area. We take this situation extremely seriously and are actively working with local officials to gather more information. Our focus remains on supporting our kids and their families, especially in light of these recent events. Now more than ever, […]
---
Boys & Girls Clubs of Dane Countyand  Walworth County Boards of Directors unanimously voted to become one non-profit organization. In the upcoming months the organization will be looking to rebrand, realign staff positions, and increase services to young people throughout the region. Rod Mitchell, current Interim President and CEO of the Boys & Girls Club […]
---
February 9, 2018: Boys & Girls Club of Dane County is Closed! As per our policy, when Madison Schools close for weather conditions, Boys & Girls Club of Dane County closes its Clubs and Administrative Office. We apologize for any inconvenience. We hope everyone stays inside. But, if you MUST brave the drive outside on these […]
---
On Thursday, February 8, 2018 a 6:30 pm, Boys & Girls Club of Dane County will host a Teen Town Hall Meeting where youth of Madison will have a round table discusion on how to address issues concerning them and develop actional outcomes and solutions. The Teen Town Hall Meeting will take place at the […]
---
We are very excited to continue our tradition of the Boys & Girls Club Holiday Toy Drive! For many of our kids, this is the only gift they will receive. Please consider donating new gifts for ages 5-18 by Monday, December 18th. Gifts can be dropped off Monday-Friday to our administrative office from 9:00am-5:00pm at […]
---
Today, Cardinal Heights Upper Middle School in Sun Prairie hosted its 3rd annual Social Justice Youth Summit which covered a wide array of topics/workshops for students to participate in. The Social Justice Youth Summit was organized more than three years ago in the wake of the death of Tony Robinson. Students in Sun Prairie were […]
---
Stand Up for the Kids of Fitchburg! JOIN US to STAND UP against proposed cuts by the CITY OF FITCHBURG!
---
Boys & Girls Club of Dane County is collecting supplies and donations for Texas flood victims. On Thursday, Michael Johnson, CEO, and other volunteers will …
---
MADISON (Madison365) – Former NFL nose tackle and Green Bay Packer Super Bowl Champion Gilbert Brown was in town this morning to lead a camp …
---