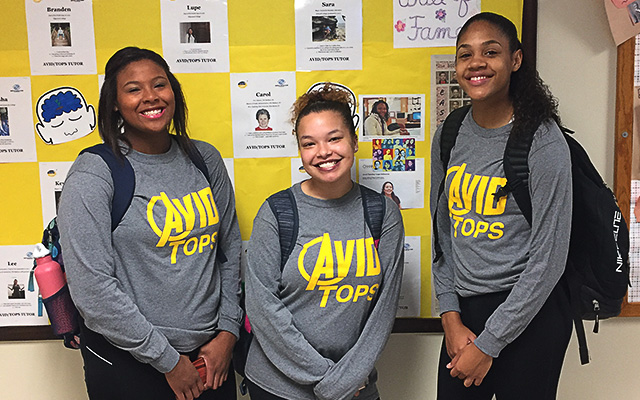 School-Based Programs
Partnering with Madison schools for a one-of-a-kind approach to academic success.
Academic success is at the core of everything we do. Our school-based programs uniquely integrate with the Dane County school district to help provide kids with the resources and experience needed for bright academic futures.
In fact, we are one of the only Clubs in the nation that runs an AVID partnership with local schools.
AVID/TOPS Program
AVID/TOPS is a program created by the partnership between Madison Metropolitan School District (MMSD) and Boys & Girls Club of Dane County (BGCDC) that prepares high school students for college while working to make college more affordable. The program includes two components: classroom (AVID) and outside-of-the-classroom (TOPS).
AVID (Advancement via Individual Determination)
AVID is the classroom component. Used in more than 3,000 schools nationwide, AVID is a four-year elective class with rigorous standards and strong academic support.
TOPS (Teens of Promise)
TOPS is the outside-of-the-classroom component. It emphasizes college preparatory activities and real-world experiences like summer internships.
AVID/TOPS is a high-intensity, in-school and out-of-school partnership focused on supporting students to develop the writing, inquiry, collaboration, organization, and reading skills needed to be college and career ready. AVID/TOPS students will increase their GPAs, attendance, high school graduation, and college acceptance. Through the AVID/TOPS partnership, students receive the AVID college readiness curriculum, in addition to tutoring, college field trips, mentoring, summer internships, and career exploration. The goal of AVID/TOPS is to close the achievement gap by ensuring that students, who are typically underrepresented on college campuses, graduate from high school with the skills and knowledge needed to be successful for college and career.
Our Impact
AVID/TOPS is making an impact. See the following report from the University of Wisconsin HOPE Lab about how AVID/TOPS is improving high school students' attendance, GPA's, access to rigorous coursework, on-time graduation, and college enrollment.
TOPS College Success
The TOPS (Teens of Promise) College Success program, a continuation of the AVID/TOPS high school program, supports AVID/TOPS graduates in persisting through the college enrollment process to college graduation. The program monitors student success in college, while assisting students with overcoming major college roadblocks while working to earn their degrees.
Students are paired with a College Success Coach, who checks in frequently with students to answer questions and provide encouragement. Students are provided with opportunities such as summer internships, volunteer opportunities, book stipends, and other incentives. Signature College Success Events include:
TOPS Summer Transition Conference for incoming first-year college students
Enroll in College Day for students returning to college after time off
TOPS Winter Reunion
High School Presentations to AVID/TOPS Students including FAFSA night, Best Fit College presentations, and How to Be Successful in College
Volunteer Opportunities each month for student experience
And more!
To learn more about the TOPS College Success program, visit: https://topscollegesuccess.com/
To learn about us socially, visit our Facebook page.
TOPS College Success also partners with Madison College's Retention Department to support our largest cohort of TOPS Scholars at Madison College. Madison College TOPS Scholars participate in specialized monthly programming to support students in their success and have two dedicated College Success Coaches on campus to support their needs.
Our TOPS program at Madison College is also partnering with the Scholars of Promise program to assist students with funding and success in college.
Summer Internships
Research shows that students are more likely to graduate college if they have career direction before they begin. However, since many AVID/TOPS students end up being the first in their families to earn a bachelor's degree, they often have not received much exposure to careers requiring higher education. One way in which our students can learn about career possibilities and explore personal interests is by participating in summer internships.
Partnerships with community businesses and organizations allow the Boys & Girls Club to offer internships that expose students to a wider range of career options prior to beginning college. These internships, in addition to continued guidance throughout college attendance, help motivate students to graduate and achieve their future career goals.
Through the AVID/TOPS program and student internships, teens are not only assisted in fulfilling their goals of completing college, but also in developing stronger and more successful futures.
For more information on summer internship opportunities, contact Taylor Jackson at tjackson@bgcdc.org. Companies and organizations interested in offering a summer internship should contact Taylor Jackson.
Interested in volunteering?  Volunteer
TOPS College Success Student Emergency Fund
Help support TOPS students who face major emergencies or financial disruptions during the semester so they can focus on staying in school and earning good grades. TOPS Scholars in need can apply for a one-time disbursement of emergency funds to help cover costs of food, utilities, or other basic needs to prevent them from dropping out of school.
You can learn more about the TOPS Emergency Fund or donate by contacting Glenna Scholle-Malone at gscholle-malone@bgcdc.org or calling (608) 661-4762. You can also send a check made out to Boys & Girls Club of Dane County to:
TOPS College Success Team
Boys & Girls Club of Dane County
1818 W Beltline Hwy
Madison, WI  53713